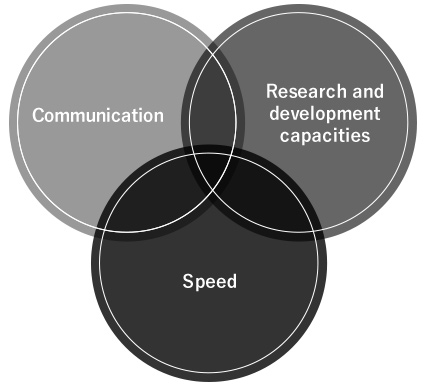 We provide support to customers to solve their challenges from three points of view

Communication Style

COMMUNICATION STYLE

We consider proposals from the customer's perspective first.
In order to get an understanding of precisely what the customer wants, we listen to our customers continuously to convert ideas into tangible form.
Until our customers' products are commercialized, we work together on a trial-and-error basis.
Our sales representatives provide reliable after-sales services.

Research and Development Capacities

RESEARCH and DEVELOPMENT

Our staff, who specialize in the chemical, electric, or machinery fields provide the best way to solve our customers' challenges.

We make a broad range of proposals about process improvement or measures for cost reduction, as well as for how to produce products.
For any of the above, our experienced staff with in-house resources draw up a proposal using various approaches.
In addition to in-house resources, we proactively utilize external networks.

We aim for the shortest time possible when producing a prototype.
Please feel free to consult us, even for urgent matters.
In addition, we quickly realize the commercialization of products by optimizing a PDCA cycle from evaluation to improvement of a prototype.
Hearing

Prototype

Discussion

Improvement